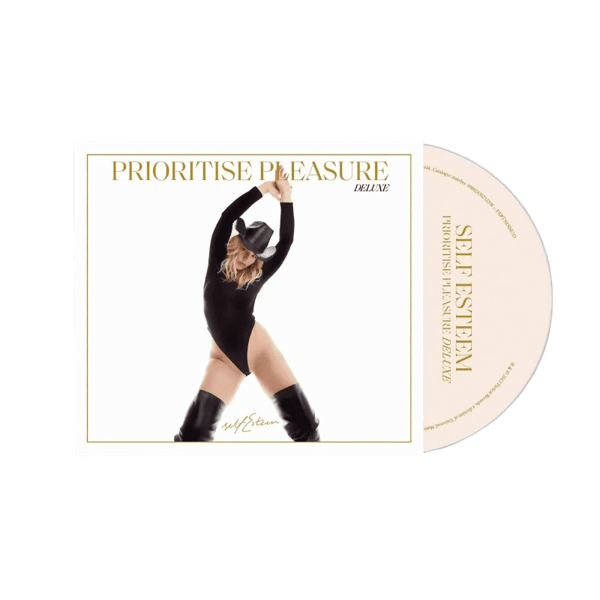 Prioritise Pleasure - Deluxe CD
It has been an unprecedented 18 months for Self Esteem since the release of her universally acclaimed, Mercury Prize nominated second album Prioritise Pleasure.

Announced on the one year anniversary of the album's release, the deluxe edition features five bonus, acoustic versions of tracks from the album, with strings arranged by Colin Elliot. Full tracklist below. It has also been announced that Self Esteem will support Blur on their one-off UK reunion gig at London's Wembley Stadium on Saturday 8th July 2023.

Of Prioritise Pleasure (Deluxe), Self Esteem shares "Any chance I get to work with Colin Elliot is a joy. Singing the lyrics of Hobbies 2 over the most beautiful string arrangement was particularly joyful. Thank you to Colin, Toby, The Up North Session Orchestra, my own beautiful band and the AKlass Collective for helping me make these exclusive versions".

Listen to Prioritise Pleasure (Deluxe)

Due to phenomenal demand, Self Esteem has also recently upgraded her March 2023 I Tour This All The Time tour, which will see her play a second show in her hometown of Sheffield, and huge third dates at London's Eventim Apollo and Manchester's Albert Hall. The now 21-date run of shows will see Rebecca Taylor and her band play to 43,000 people nationwide.

Prioritise Pleasure Deluxe tracklisting

I'm Fine
Fucking Wizardry
Hobbies 2
Prioritise Pleasure
I Do This All The Time
Moody
Still Reigning
How Can I Help You
It's Been A While
The 345
John Elton
You Forever
Just Kids

Prioritise Pleasure (Acoustic)
You Forever (Acoustic)
The 345 (Acoustic)
Hobbies (Acoustic)
Still Reigning (Acoustic)

As Self Esteem, Rebecca Taylor has shaken off the shackles of her indie band past to become the unapologetic pop star she always wanted to be. With her 2019 statement debut Compliments Please, Taylor gave voice to the feelings of insecurity and misogyny-induced frustration that many of us face every day, emboldening a whole new audience with powerful, truth-telling lyricism.

Her second album Prioritise Pleasure arrived to universal critical acclaim, crowned both The Guardian and Sunday Times Culture's Album of the Year, with the empowering 'I Do This All The Time' also named The Guardians #1 song of 2021. Praised for its fearless ability to tackle important issues around female autonomy, comparison culture and self love, its intimate, confessional and witty lyricism and anthemic maximalist pop rhythms, the album was a catalyst for an unprecedented year for Taylor.

Prioritise Pleasure received a slew of award nominations including the esteemed Mercury Prize, a BRIT Award for Best New Artist, Sky Arts and NME awards nominations, while also winning BBC Introducing's 2022 Artist Of The Year award and Attitude Magazine's 2021 Music Award.

Gathering a passionate and vast legion of fans, Taylor has appeared on The Graham Norton Show, Celebrity Gogglebox, Friday Night Live, performed twice on Jools Holland, graced the covers of magazines from Grazia to NME to Sunday Times Style, and is one of a handful of artists to have been playlisted across BBC Radio 1, 2 and 6 Music simultaneously.

Praised for her cathartic live show, Self Esteem has brought her flawlessly choreographed, high energy performances to fast-growing rooms of adoring fans. Following her 2021 Self Esteem tour and sold out 2022 Prioritise Pleasure tour, summer 2022 saw Taylor play a mammoth 30 festivals, teeing up her biggest run of shows to date: the 2023 I Tour This All The Time tour includes a huge three nights at London's Eventim Apollo, three nights at Manchester's Albert Hall, and two nights at her hometown's O2 Academy Sheffield.

Outside of her work as Self Esteem, Taylor turns her hand to numerous other projects, including acting (Taylor has recently been cast in a Film4 film and Sky sitcom), writing (in 2023 she will make her literary debut), composing (Taylor composed the soundtrack for Prima Facie, the arresting one woman play starring Jodie Comer which sold out a 9 week run in London's West End, opening on Broadway in Spring 2023) and more.